Horticulture & viticulture
We know how much hard work it takes
From fuel for your big equipment to diesel for frost protection, Allied Petroleum has you covered. As a supplier for vineyards and orchards across New Zealand, we know all about working in your industry.
Fuel when and where you need it
Getting something to grow isn't just a case of putting it in the ground and hoping for the best. Allied Petroleum is one of the cogs in a very big wheel to make sure your operation's needs are covered and you're getting the most from your crops.
From the Pinot Noir-laden valleys of Central Otago to the fruit bowl of Hawke's Bay and the Bay of Plenty's bursting kiwifruit orchards, Allied Petroleum has the fuel to keep you, your machinery and vehicles going. We'll come to you, supporting your operations so you can keep moving.
Quick convenience with fuel cards
Our Allied Fuel Cards are designed to keep things easy. No application fee, no annual fee and no replacement card fee. We're flexible with your business needs and you reap benefits, such competitive pricing, fewer fees, better management and cost control.
There's the convenience and transparency of dealing with one account and one provider, and all your fleet's card accounts can be easily linked to your bulk fuel account. Sit tight in the knowledge you're supported by our dedicated team who are ready to help with your enquiries.
Get started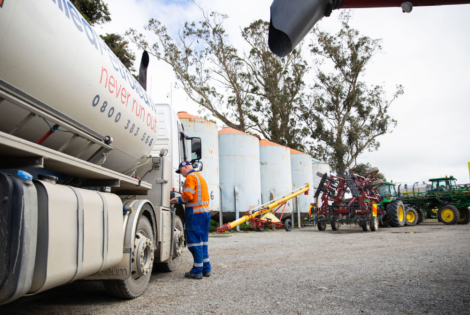 Your fuel, your doorstep
When you're busy running your business, the last thing you need is to run out of fuel. Allied Petroleum's bulk fuel deliveries mean we come to you. We can deliver fuel on-site, so the wheels of your business can keep turning.
We can provide you with the right storage, dispensing and fuel management systems, from stationary tanks for the yard, to mobile tank solutions for off-site operations and projects, to diesel for frost protection equipment.