Partnering with Greg Murphy
"Working with a Kiwi company looking after other Kiwis and their needs - it doesn't get better than that."
Whether on the track or on the road, you're nowhere without reliable fuel. So we've teamed up with
motorsport legend Greg Murphy to prove it. Even as the man in control during his racing career, Greg
knows it takes a team to keep moving so we're excited about our partnership being a natural fit.

A bit about Greg
A natural behind the wheel from the age of 8. Winner of the New Zealand Grand Prix at 22. Now with over 400 V8 Supercar race starts and four wins at Bathurst, Greg Murphy is considered one of the greats by fellow competitors and fans of motorsport. Yet he's still proudly Kiwi and a down to earth man.
"Successful partnerships are built on mutual respect for one another. They have to be genuine, not fabricated. Having the same beliefs or commitment when it comes to delivering or providing performance, is also a must. I knew Allied Petroleum had strong company values before this relationship came to fruition. So when the opportunity presented to work with them, it was a pretty easy decision to make."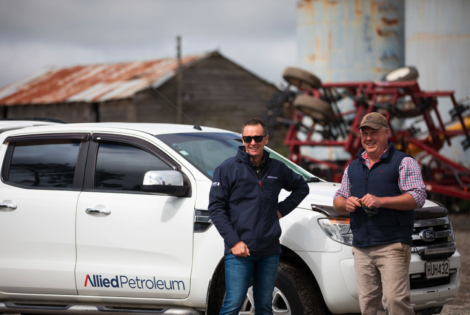 Follow Murph on his Refuel Roadie
Join Kiwi legend and Allied Petroleum partner, Greg Murphy, on the road as he makes his way across New Zealand and see how Allied Petroleum's total fuel solutions keep things moving for our partners nationwide.
Find out more
Be like Murph and partner with Allied
Whether it's bulk fuel delivery, fuel storage, fuel on-the-go, or lubricants, we cover all your needs. We're New Zealand's total fuel solutions provider.
Find out more